02 May

Honouring 'Shame' (News Line Magazine)

Posted at 17:30h

in

Press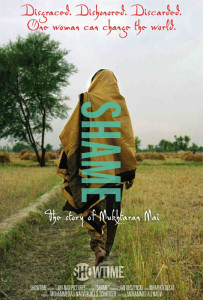 "Naqvi's documentary points out the urgent need to empower women in third world countries so that they can fight for their own rights.
Up-and-coming filmmaker Mohammed Naqvi was one of the recipients of the inaugural Television Academy Honors this year for his 2006 documentary Shame, which tackled the issue of violence against women in Pakistan, more specifically the Mukhtaran Mai case. Produced for the Showtime cable network, Shame, along with eight other television programmes, was picked ahead of 200 other entries. In addition to being featured at the Toronto International Fim Festival, the International Documentary Festival Amsterdam and the Tribeca Film Festival, Shame has won awards at the Durban Film Festival and the Full Frame Documentary Festival last year. Naqvi has also been selected as one of the members of the American Film Institute Project for international directors.
Using the Mukhtaran Mai case as an example, Naqvi's documentary points out the urgent need to empower women in third world countries so that they can fight for their own rights. Alongside, it pays homage to Mukhtaran Mai, who fought against the system to receive justice…"