23 Feb

Mohammed Naqvi Presents Shame at Sun Valley Family of Woman Film Festival (friendsofunfpa.org)

Posted at 17:53h

in

Press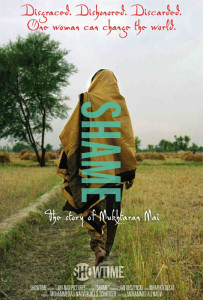 "Naqvi presents the astonishing spirit, resilience and self-belief that sustained Mai through her incredible journey.
Shame explores the life of a Pakistani woman who is gang-raped after her brother is accused of molesting a relative. She overcomes adversity and starts a school for young girls in her village.
New York, NY – January 23, 2008- On February 23rd at the screening of his film Shame, Mohammed Navqi will discuss the filming of Mukhtaran Mai's journey to defy social stigma and the culture of shame surrounding rape victims in Pakistan. The screening will take place at 7 p.m. at the NexStage Theatre, 120 South Main in Ketchum, Idaho. Presented by Americans for UNFPA, Shame is the second of four films to be screened from February 22-24 as part of the Family of Woman Film Festival. All tickets are $15 and may be purchased at Chapter One Bookstore, Iconoclast Books or at the NexStage Theatre.
In 2002, in a remote village in Pakistan, 30-year-old Mukhtaran Mai's life changed forever when a tribal council sanctioned a punishment against her for a crime allegedly committed by her younger brother. Following the custom of "honor for honor," Mai was gang-raped and then publicly paraded as an example…"