31 May

Shame and Change (National Review)

Posted at 19:07h

in

Press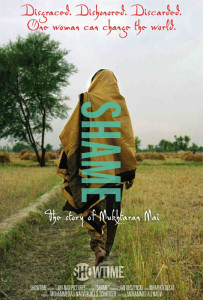 "Pessimism about the prospects for change in the greater Middle East is plentiful and cheap. 'Shame' is a precious rebuke.
It has to go either one way or the other," said Mohammed Naqvi as he described the Pakistani legal system's treatment of rape: an approach that's half British common law, half sharia. Naqvi is the director of Shame, which airs on Showtime tonight at 9 P.M. It is a moving documentary about Mukhtaran Mai, an illiterate 30-year-old woman from rural Pakistan who was gang-raped in 2002 on the orders of a local tribal council, which in those parts are the law.
His comment echoes across a greater Middle East that is resolutely stuck in the middle. Iraq's democratic experiment is fighting for survival against medieval decapitators. On Gaza children's TV, a Palestinian Mickey Mouse character reminds children to brush their teeth and pursue eternal jihad against the Jews. Forward or backward, the region has to go one way or the other…"