01 May

Tribeca Preview – Shame (asiapacificforum.org)

Posted at 14:28h

in

Press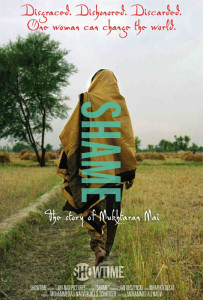 "Malala Yousufzai continues to recover from the shooting that almost ended her life and brought her fight for girls' education in Pakistan to worldwide attention.
We will be joined by Shame's director MOHAMMED ALI NAQVI and co-producer JILL SCHNEIDER, in town for the Tribeca Film Festival.
Guests
MOHAMMED ALI NAQVI made the award-winning documentary Terror's Children (2003), which launched the Discovery Times Channel. He is the youngest winner of the prestigious Overseas Press Club of America's Carl Spielvogel Award and also a winner of the South Asian Journalist Award. He is a former IFP Directors Lab participant and founder of B.L.A.H. Productions, a theatre company in New York. He is the producer of the narrative feature Big River (2006) that was screened at the Berlin Film Festival. Shame is his first feature-length documentary.
JILL S. SCHNEIDER is a filmmaker who previously worked with New York Times Television where she produced two seasons of Science Times and worked on a number of documentarties for the launch of the Discovery-Times Channel including Terror's Children and The Real Saddam. In 2002, Jill co-founded Mu-Nan pictures with Mohammed Naqvi…"