27 Apr

US to Get a Taste of India via Film Festivals (hindustantimes.com)

Posted at 14:34h

in

Press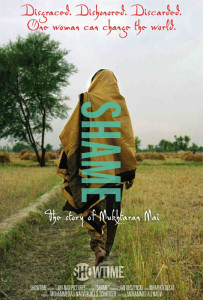 "Shame is the moving story of Mukhtaran Mai, the woman from a Pakistani village who was publicly gang-raped to atone for an alleged crime by her brother.
While a film festival in New York screens documentaries from India and Pakistan, a museum in New Jersey is all set to showcase antiques at an annual Asian heritage expo.
New York's Tribeca Film Festival, April 25 to May 6, will screen 159 feature films and 85 shorts, including two South Asian documentaries Shame and Salim Baba as well as a screenplay reading of A First Class Man, a film on Indian mathematics genius Srinivasa Ramanujan.
From India, Salim Baba, directed by Tim Sternberg, tells the story of Salim Muhammad from Kolkata who entertains people with an 1897 hand-cranked portable bioscope projector inherited from his father.
Directed by Mohammed Ali Naqvi, Shame is the moving story of Mukhtaran Mai, the woman from a Pakistani village who was publicly gang-raped to atone for an alleged crime by her brother. Instead of killing herself, as she was expected to do, she raised an outcry that became an international cause…"